Description
The latest addition to the Dish Daddy range. The Dish Daddy Connector Head for your Smile Face Sponge! All the same benefits of scrubbing with a Scrub Daddy sponge, without having to get your hands dirty! What's not to love?
Fit your Scrub Daddy or Mommy onto the Dish Daddy head to clean with better control and range of motion. All while dispensing product directly to your sponge! Whether you use your Dish Daddy for the dishes, cleaning your bathroom or scrubbing the window sills, the connector head is sure to make even the toughest jobs a breeze!
 Connector Head Features
Attaches smile face scrubbers to the Dish Daddy
Compatible with Scrub Daddy and Scrub Mommy smile face scrubbers
Reduces contact with water & cleaning agents
Added leverage
Perfect for bigger and tougher jobs
Feeds soap directly to the sponge
Built-in scraper
Please Note | The Dish Daddy's scrubbing head has no plastic waste! When switching the heads, push to remove and slide to attach.
Do not discard the white connector.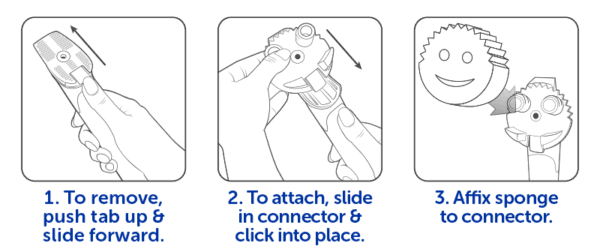 *Smiling Scrubber attachment will not accommodate some limited edition or seasonal shapes
To see the latest tips, tricks, hints and adventures of the Scrub Family, follow Scrub Daddy on Instagram or Tiktok.